11 September 2018
New Motas-6 firmware xx0107 and user guide v1.16 released
New instant patch-changing feature in arpeggiator - create drum loops!
New programmable patch-changing option for each note in pattern sequencer.
Several new arpeggiator patterns.
Improved 'randomise patch' algorithm
Updated user guide to match the latest firmware
Get these now from the downloads page.
20 August 2018
Motas-6 press-release - Sound On Sound magazine online
"Powerful synth from new British designer" - Motas-6 synthesizer.
12 July 2018
The excellent Future Music review of the Motas-6 synthesizer (in edited form) is now on online at Music Radar
5 July 2018
Motas-6 is now available from KMR Audio
The Motas-6 synthesizer is now on sale from the great guys at KMR Audio. Get in touch with Tom Lewis - the synthesizer guru! sales@kmraudio.com.
15 June 2018
MotasEditPlugin - NEW plugin version of the MotasEdit software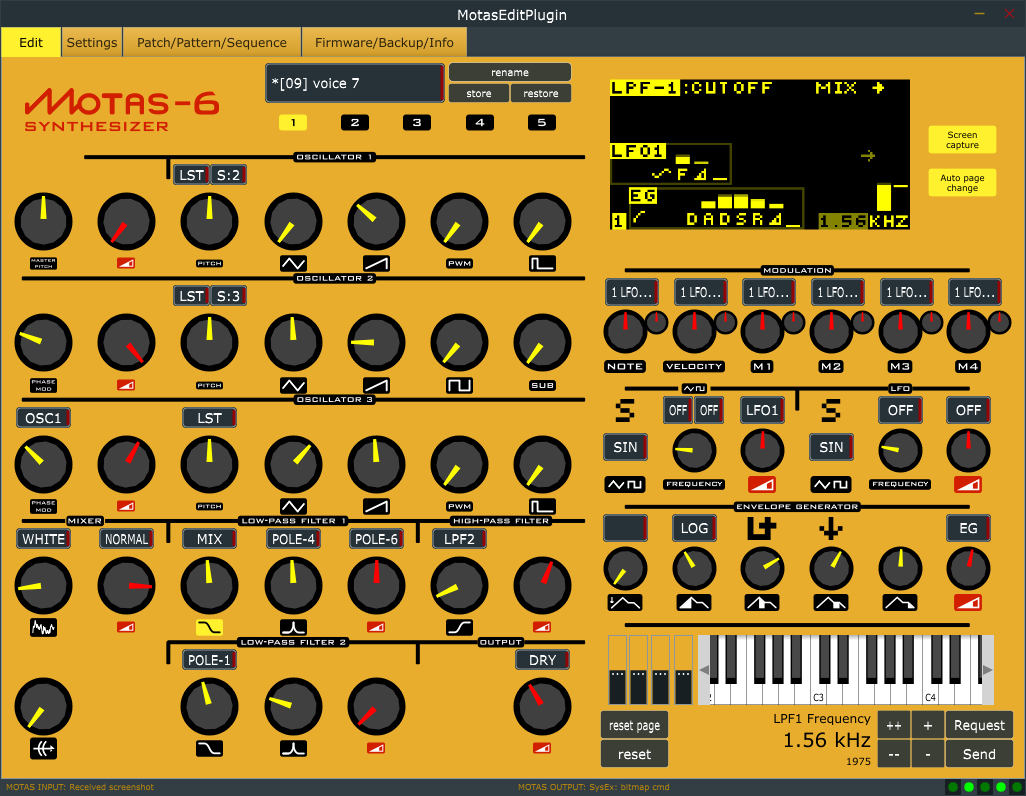 Plugin version of the MotasEdit software
Live editing and automation of Motas-6 parameters
Adjust hardware controls on Motas-6, on the plugin and record the parameter changes in your DAW
Huge set of parameters exposed to DAW for massive automation. Currently every parameter page (33 pages - that is one for each main rotary slider) exposes offset, LFOx mod depth, unique LFO mod depth, unique LFO frequency, EG mod depth, unique EG delay, attack, decay, sustain and release. Also, global EG and LFO parameters are exposed. This gives a total of 350 automatable parameters!
Load/save setup to recall patches with song
To enable all the features correctly you must apply firmware xx0106 to your Motas-6 (see below)
VST and AU versions available for Window, macOS and Linux.
Get this free software for use with your Motas-6 from the downloads page.
15 June 2018
Motas-6 firmware xx0106 released
New SysEx commands for use in combination with MotasEditPlugin software (see above)
EG rate values reversed in NRPN MIDI messages (so not inverted anymore)
Improved SysEx data transfer speed
Minor display improvements
7 June 2018
TONAL AXiS patch bank - new patch bank of 50 patches is now available
Another great bank of Motas-6 patches is now available created by TONAL AXiS.
All new Motas-6 synths shipped will have this set pre-installed to bank 3. If you already have a Motas-6 synthesizer then get this bank from the downloads page now!
1 June 2018
Read the Motas-6 synth review in Future Music issue 332 "Ultimately, the Motas-6 is an immensely powerful standalone monophonic synthesizer that has the ability to go into all kinds of interesting sonic territory. Modular systems offer flexibility, but by their very nature do not offer much in the way of parameter recall or parameter automation. Motas Electronics should be praised for their dedication in creating such an interesting piece of sonic hardware. " - Future Music Magazine issue 332
21 May 2018
A macOS build of the free MotasEdit software is now available at for the Motas-6 synthesizer. Also, watch out for a plugin version coming soon...
27 April 2018
NEW MotasEdit software released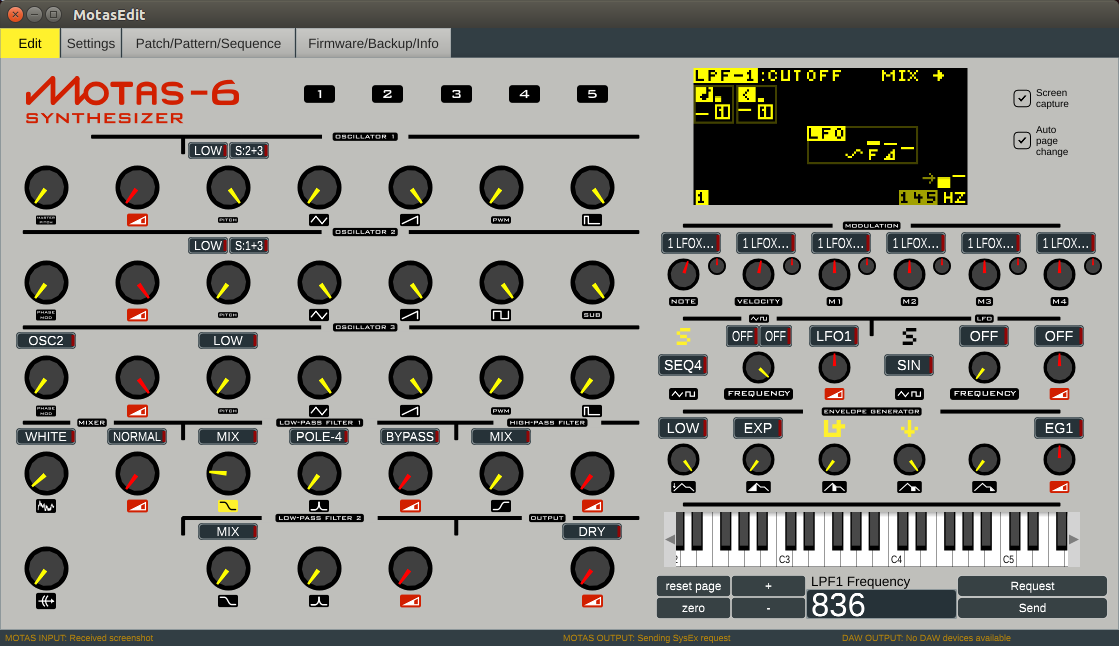 All the features of the previous MotasControl software plus...
Live editing of Motas-6 parameters
Live updating from Motas-6 panel changes
Load then edit patches on your PC and transfer to/from Motas-6
Live automation/recording using flexible MIDI routing
To enable all the features you must apply firmware xx0104 (see below)
27 April 2018
Motas-6 firmware xx0104 released
New tracking options when holding multiple notes down for new playing styles and more flexible paraphonic operation
Oscillators 1, 2 and 3 can now track high/middle/low note independently
EGs have new option to track high/middle/low note
Compressed data transfer over MIDI (including screenshots) for use with MotasEdit software
27 April 2018
Updated user guide version 1.14 for Motas-6 synthesizer
Updated user guide to match the latest firmware
Get these now from the downloads page.